You can easily create sophisticated layouts and designs for your pages, blog posts, events, even your store products using the Avia Site Builder.
Click the blue Advanced Layout Editor button in the upper left of the new page/post/event dashboard to load the Avia Page Builder feature, an easy drag-and-drop page designer.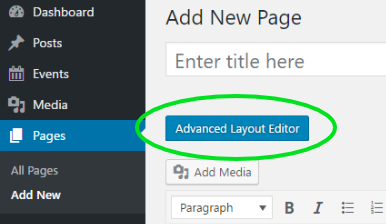 Using the page builder, you can add media and content elements to the page to make it look however you want.
Here is a brief tutorial on how the drag-and-drop system works. There are even more details on the developer's tutorial.
To load a template that looks similar to your other pages, click the TEMPLATE button and select the PAGE or PAGE WITH FORM template from the drop-down menu, then edit it with your new content and images. Be sure to set the Sidebar Settings on the right to "No Sidebar, and to add a background image to the "Color Section."
Finally, hit "Publish" on the top right hand side of the page to save the changes and make the page live on your site.
NOTE: at this point, your page will be live on your website, but no one will be able to see it unless you create a hyperlink from an existing page or add it to your site's menu. You can see our help article for how to do that here .