Adding a Credit Card to a customer's profile is a function you can take advantage of to make easier purchasing power for your Customers! Most of the time, this function can be used for monthly membership billing but can also be used to purchase Golf Shop merchandise, as well as Food and Beverage.
1. On your Teesnap iPad, Open the Teesnap App and log in. Then click "Customers" at the bottom right choices. Then search for the customer you wish to add the credit card to.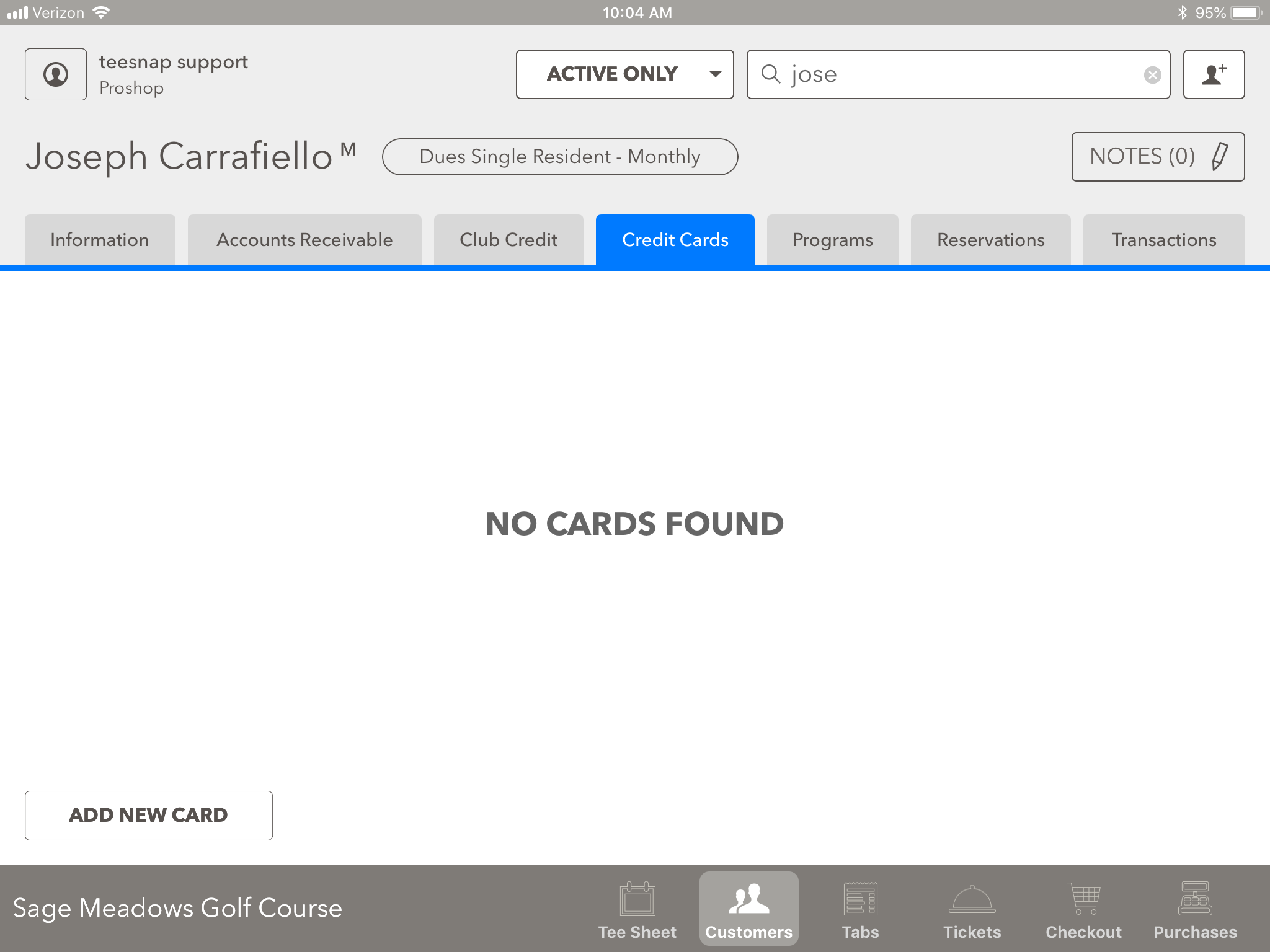 2. Once you have the correct customer selected, choose "Credit Cards" at the upper Tabs. You will then see the option to "Add New Card" at the bottom left of the customer profile screen.
3. Click "Add New Card". You will then complete the mandatory fields as shown below. Once you have completed all fields, click "Save" at the upper right of the open window.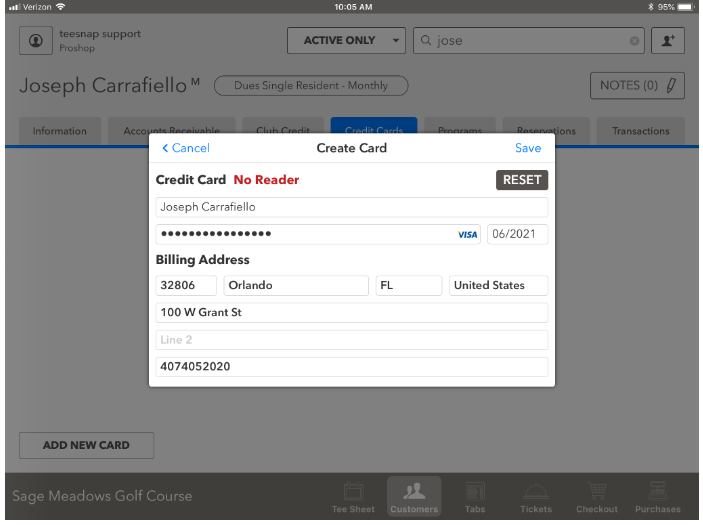 4. After saving you will then see that Credit Card has now been saved to the customer's profile.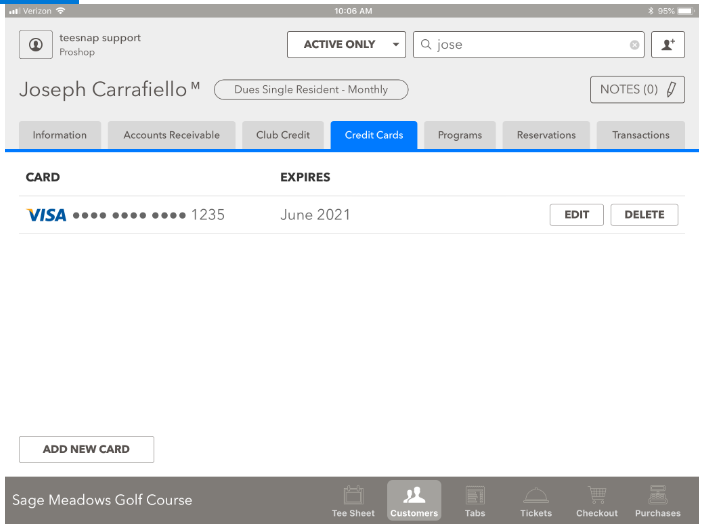 Accounts receivable:
1. Next you can click on the Upper Tabs to "Accounts Receivable". If you want the ability to "bill" purchases to the customer's account, you can click "Edit A/R Status" and "Enable" accounts receivable by tapping on the slider until it is green in color.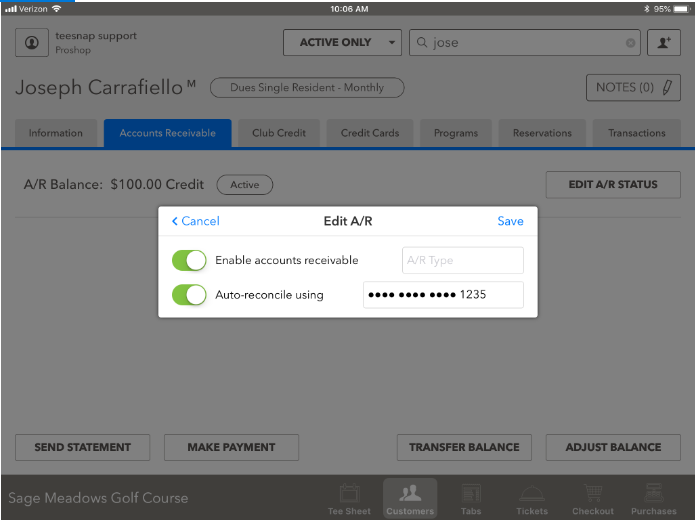 2. If you want the ability for the customer's accounts receivable to be charged to the credit card on file on a monthly basis, you can slide "Auto-Reconcile Using" to show the slider in Green. This will bill the monthly A/R automatically to this credit card on file. This can also be used to bill the customer's Membership (Program) that you have selected for this customer if any.
3. Also on the "Accounts Receivable" tab, you can click "Make Payment" and use this to manually bill any A/R balance. On the "Make A/R Payment" screen, choose "Credit" and then choose "Card on File" instead of entering a new credit card.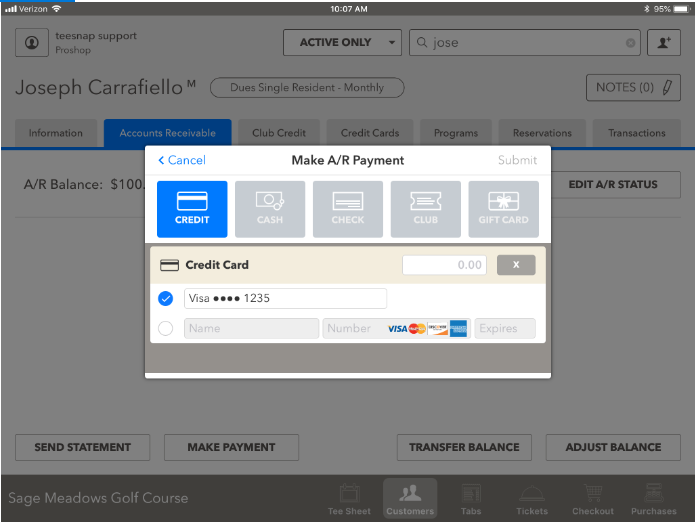 Purchases:
Another way to take advantage of a credit card on file is on the Checkout Tab when a customer wants to purchase a beverage or Pro shop item, etc. The customer does not even need to bring their wallet to the course! From the Checkout tab, select the purchased items, click "Checkout", then choose "credit" as the payment method. You will then see the option to click "Card on File". Then add a tip and Finalize as normal.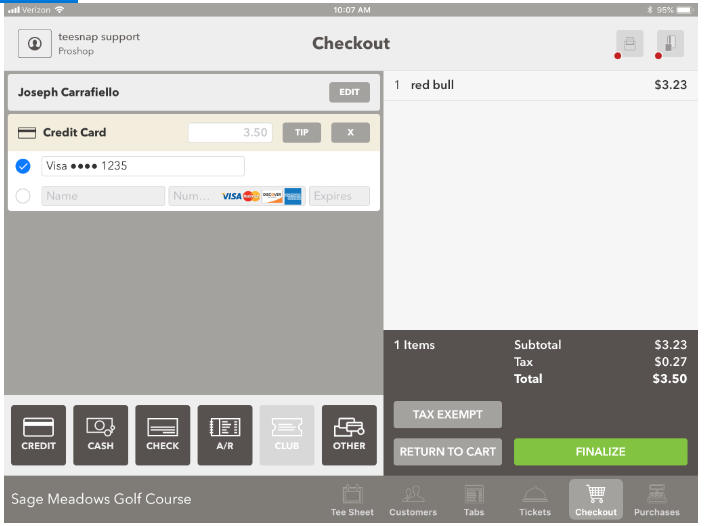 If you have any questions, please do not hesitate to reach out to Teesnap Support by emailing us at support@teesnap.com or calling 844-458-1032.