Download Options Availability
When a report is initially loaded and no selection has been made to expand data or touch the actual report, you will notice that not ALL options are available once the "Download" button is selected.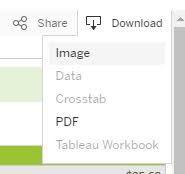 In order to enable these views, please click on the header title or anywhere in the report data to bring it into focus. This will now provide all the options available for download.